to the internet home of Evangelist Randall Creel. Please look around and find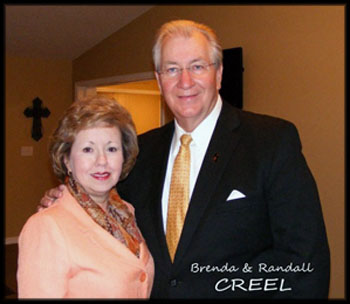 information here about his life, past and present. The menus above will lead you to more detailed info about his salvation, call to preach, ministry and doctrinal beliefs. Also, there is helpful contact information and booking policies.
Bro. Creel served as Pastor of four Southern Baptist churches for 21 years. Then, in January 2000, he answered God's clear, unmistakable call to be an evangelist/church revivalist. He didn't just 'go into' evangelism. He has a burden for the church that Jesus loved and died for. His heart's desire is to see people saved, the church revived and in love with Jesus. He is a conservative, Bible preacher, who is bold, yet compassionate. His simple, straightforward style of preaching is a refreshing and welcome change in modern evangelism. He knows the heartbeat of Pastors and the needs of churches, and will always help, and never hurt. You may request a free .mp3 sermon via e-mail, or on CD in regular mail.
"I am beginning my sixteenth year of this ministry and I am still encouraged and excited about what God is doing. It has been such an honor to travel around our country preaching the life-changing Gospel of Jesus Christ. Real revival meets specific needs in the life of every church. Sometimes it's a harvest, sometimes hallelujahs, while other churches need healing, but I've never seen a church that didn't need revival! My wife, Brenda, and I are staying the course and still committed to seeing revival. As the Lord opens doors, we continue to travel, sing and preach the old, old story of Jesus and His love."
Praying For Revival,